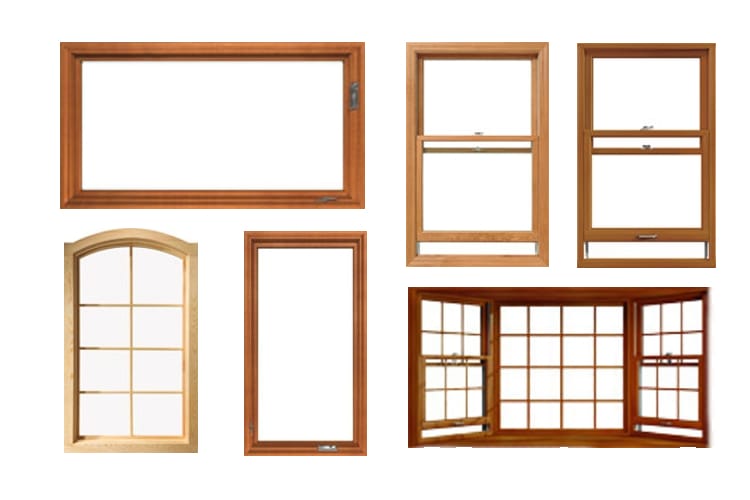 Looking for the perfect window to add a focal point to your home's architecture? With today's multiple window styles, you can enhance your home's beauty from both inside and outside. But with so many window replacement options to choose from, how can you know what window is the right choice for your home?
Popular Window Styles
At Kelly Window and Door we understand it can feel overwhelming with so many window style choices. Read on to learn about the different replacement window options available to you and some tips on choosing the right ones.
Double Hung Windows
Double hung windows are the most popular window style in the United States. They are longer vertically, and give your home a classic appearance. They open easily using two vertically sliding sashes. While single hung windows only let the bottom sash slide up and down, popular double hung windows give you movement from both the top and bottom sashes! They give your home a traditional look, and appear fabulous in a variety of rooms within your home.
Double hung windows are super low maintenance, easy to clean, and give you great breezes indoors. If you need to install an air conditioning unit in your home, double hung windows accommodate with ease. They are super customizable, so you can complement your home's style with your window frame material, color, and hardware.
Decrease your utility bills with energy-efficient double hung windows. They work well with just about any style of home, and can be enhanced with grids and decorative glass if you desire.
Casement Windows
Looking for the best way to take advantage of an amazing view just outside your window? Casement windows may be the perfect option for you; they open to the right or left (like a door) rather than vertically, and are easy to open or close with a crank or lever. Their efficient airtight seal keeps your heat and air conditioning from leaking out of your home, saving you on utilities bills throughout the year. They are a popular option unless you want to put a window air conditioning unit into your home, because they can't accommodate those units due to their design.
Bay & Bow Windows
Who doesn't love a beautiful bay or bow window in their home? Whether used for a reading nook in your bedroom or study, or used to brighten your kitchen nook with natural light and great views, bay windows offer an aesthetically pleasing option for your home. They expand the look of any room they are in, and offer a beautiful possibility for visual interest in your home.
Similar to a bay window, a bow window uses a curved architecture and more glass panels, giving you stunning views of the outdoors, and a beautiful focal point to enjoy inside your home.
Slider Windows
Slider, or sliding windows, are larger windows that give you outstanding views of the outdoors, and slide to open. Their ability to glide rather than open outward allows them to be quite large, giving you an attractive option if oversized windows will bring out the best in your home. Their ease of opening and closing and tight seal increase your energy savings throughout the year. And they are easy to clean.
Awning Windows
Awning replacement windows open upward, and their hinges connect the top of the window to your home. Because the whole window opens upward, you get great ventilation and outstanding views. Due to their design, awning windows give you airflow (minus the rain or other elements) even when it's stormy out. They aren't as easy to clean as double hung windows, but they have other amazing features such as their ability to offer you added safety since they are so difficult to enter based on their design.
Specialty Shaped Windows
Specialty-shaped windows add uniqueness and beauty to your home, and include shapes such as circles, triangles, octagons, quarter rounds, and ovals.
Half Round Windows
Get a contemporary look with popular half-round windows in your home. A half round window is typically installed above a double hung window or entry door. It adds architectural interest and uniqueness, and allows refreshing natural light to stream through into your home.
Window Features
No matter what style of window you choose, you should always keep functionality in mind. What features do you want? Easy cleaning? Security?
A few things to consider are:
Safety and security features – Since windows are potential access points to homes, invest in good window locking systems, utilize a high-quality glass, and install alarms if needed.
Low maintenance – Easy to clean windows offer you convenience for the life of the window.
Aesthetics – Think about the impact of the material choice and color choice for your replacement windows and how they will impact your home's overall beauty both inside and out.
Durability – To make the most of the time and money that goes into replacing windows, find the most durable option, and enjoy the benefits of your new windows for years to come.
Cost – Weigh the cost of your top window choices with the enjoyment, durability, and energy savings they will provide.
Get a Free Estimate from a Reliable Window Replacement Contractor
At Kelly Window and Door, we offer a variety of window style selections for you to choose from. Add value to your home with replacement windows installed the right way the first time. Update your home with new windows, and enjoy energy efficiency and increased natural light in your home.
Contact us to schedule a free estimate in your home, or make an appointment to speak with a consultant here at Kelly Window and Door.