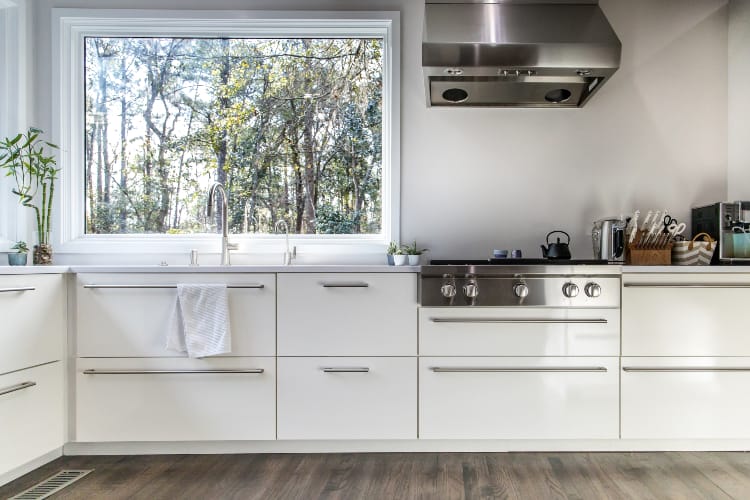 Kitchen remodeling often focuses on new appliances, countertops, backsplashes, cabinets, and flooring. But homeowners who add new replacement windows into the mix find a greater appeal to their kitchen's overall atmosphere thanks to the gorgeous windows that are being included in today's kitchen remodeling projects.
It's tough to beat the focal point replacement windows provide in your kitchen, and the breakfast nook teeming with natural light makes mornings more palatable. Here's a look at some ways to make your kitchen windows stand out.
Make Way for an Abundance of Natural Light!
Start your day with a good dose of vitamin D by boosting the amount of natural light in your kitchen with beautiful replacement windows. Increase your home's light and you'll improve the mood of those who occupy it.
Some homeowners think they need to install bigger windows for this to happen, but it's not necessary to increase the window size and budget just to get brighter lighting in your home. Although it is trendy to add bigger windows and bigger doors, there are dangers when opening holes in walls such as load bearing walls. This usually makes the project more expensive.
Spruce up your kitchen with these stunning replacement window ideas!
Create a distinct focal point in your kitchen
A picture window, bay window or bow window can give your kitchen an interesting focal point that draws the eye to the beauty of the outdoors. Create a lovely backdrop to your kitchen by bringing the outdoors inside by framing the splendor of nature right from the convenience of your kitchen. A striking, new picture window may add the touch of class you've been looking for. Bay windows make your kitchen feel brighter and bigger. They enhance the look of your space, and can even provide more seating for your friends and family.
Let cabinets surround windows for a fluid look
Get a custom look by integrating symmetrical cabinetry around your kitchen windows.
Use decorative sashes to express your unique style. Kitchen windows can introduce decorative elements to your space by incorporating unique sashes. The window over your kitchen sink is the perfect place for this type of decorative element in your kitchen. As you design it to stand out, you create desirable visual interest that draws the eye and adds style to your space.
Introduce a garden window where space is limited
Get the benefits of extra natural light by adding a garden window to your kitchen. This is a 4-glass sided window that protrudes out from your home and increases natural light and provides views and fresh air from multiple sides. It's commonly used for growing plants, and is often found above a kitchen sink.
Create contrast with window frame color choices
Homeowners with white kitchens looking for a modern vibe can add stark black window frames to make them pop. If you choose a darker kitchen, consider a sleek white frame for your windows to add contrast.
Add height to your kitchen's look with tall windows
The visual appeal of tall windows makes your home feel bigger, and when you add an arched tall window in place of traditional rectangular windows, the appeal is even more distinct.
Enhance your home with another layer of light by choosing transom windows
Above your current kitchen windows, consider adding a design statement and additional natural light by updating your kitchen's look with transom windows (a long thin fixed window above another window).
Increase elegance in your space with casement windows
Boost your kitchen's appeal with popular large casement windows. They give your space a modern flair, and are bigger and more open than double-hung windows. They make your room feel larger, capitalize on your view, and boost natural light in your kitchen.
Add a full wall of windows to your kitchen
When your kitchen's layout allows, include a wall of windows to get natural light teeming into the very heart of your home. Floor to ceiling windows work well in a combined kitchen, dining, and living space. They help make the most of the views outside your home, and give you dramatic, impressive style to enjoy.
Custom Window Solutions
When choosing replacement windows, there's more to it than meets the eye! Take a look at some of your vital choices that will impact your overall window function and beauty.
Window Style
Choose from a variety of window styles to match your design preferences.
Window Color
Select window frame colors that either blend or give contrast to your kitchen.
Window Glass Elements
Get energy efficiency by choosing double- or triple-paned glass filled with argon gas to boost insulation properties and save on utilities.
Window Hardware
Express your style with beautiful window hardware. Boost your home security by investing in state-of-the-art locking mechanisms.
Benefits of Replacement Windows
Enjoy the advantages of window replacement
Boost your home's comfort level year-round!
Minimize noise intrusion from streets, aircraft, and heavy equipment.
Lower your energy bills with better insulation from the elements.
Enjoy low-maintenance replacement windows that are easy to clean.
Boost your home's curb appeal and get a great return on investment.
Increase the natural light in your home to improve its overall look and atmosphere.
Maximize your home's security with better safety features in your home windows.
Gain the benefits of precision installation by calling on the pros to install your new windows.
Get maximum performance out of your windows for their lifespan when they are properly installed.
Take Time to Dream
As you consider home upgrades, take time to dream a little. Write down your thoughts as you picture your updated home. At Kelly Window and Door, we listen to your desires and explore a variety of options to match your vision and budget. Take a look at the many benefits of new windows, and feel free to include our experts even in the planning stages of your future home upgrades.