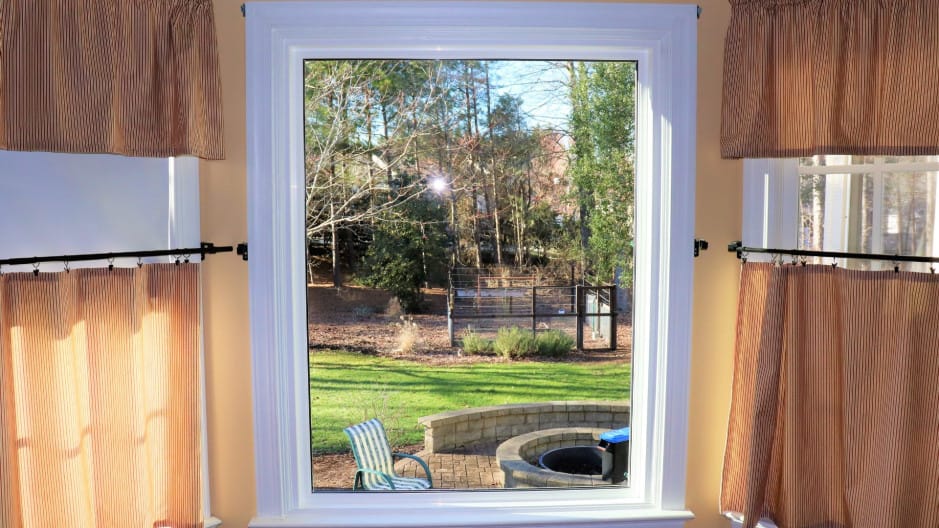 There are two primary ways replacement or new construction windows are installed: full frame or inserts. The method that's best for your home depends on several factors such as the condition of your window frames, your desired outcome, and budget. Also, the number of years you plan to live in your home should also be taken into consideration when deciding between full frame replacement windows or insert replacement windows.
Regardless of what you choose, a window product with optimal energy efficiency installed with precision is critical to the performance of your windows over their lifetime. Read on to determine what is the best long-term solution when it comes to window replacements. 
Full Frame Window Replacements 
The Durability of Full Frame Replacement Windows
Full frame replacement is a more involved window replacement project. It includes the removal of all window components down to the studs in the wall. A new window and frame are installed into your window rough opening. The result of full frame window replacements is a long-lasting, high performing, energy saving window you can rely on. 
Pros: This is the top choice for homeowners who have damaged frames, interior trim casing, or exterior trim. When installed with modern spray foam insulation, the install can also help decrease noise infiltration, improve your home's insulation and lower your energy and utility costs. If you have drafts in your home due to faulty windows, this is a great solution for you.
One of the biggest benefits of full frame window replacement is the ability to inspect, repair, and mitigate any moisture intrusion that may have occurred over time from your previous windows. This will give you peace of mind that trouble isn't brewing beneath the surface. Because full frame window replacement includes removing your interior and exterior trim, it may also require siding to be trimmed to fit your new windows into place.
Cons: It's a more significant initial investment to install full frame windows, but you will enjoy the benefits and optimal window performance for years to come. It may take two to three times longer to install full frames than inserts, but the extra time will give you peace of mind for many years as a result! 
Insert Window Replacement
The Simplicity of Inserts 
Also called "pocket window replacement" or "frame-in-frame" replacement, this involves the installation of a new window within the frame of your current window. What is replaced in this installation is the window sash (the parts that open and close) and hardware. When the new window is inserted into the existing, frame it is insulated, anchored, and sealed.
Pros: If your current window frames are not damaged, and you want replacement windows that are the similar size and style, this may be a good option for you. Insert replacement limits disruption to your home exterior and interior window trim. It's a quick and simple solution that offers a cost-effective means to replace your current windows with a much better efficient, aesthetically pleasing, and long lasting product when installed correctly.
Cons: This is only an option if your current windows are structurally sound and made of wood or aluminum. Note: Pocket window replacement isn't an option if you're replacing vinyl windows because vinyl frames may not include the structure to support a window replacement. Realize that there may be a slight reduction of light when you choose window inserts vs. full frame window replacements, however many times the benefits outweigh the cons.  
What Is the Best Type of Window Replacement for You? 
What is the condition of your current window frames? 
If your frames are damaged, rotted, or show signs of mold, a full frame window replacement will work ideally for you.
Do you want to change the shape of your window, its style, or size? 
When you replace your windows, it's the perfect time to take the limits off and make changes that will enhance your daily lifestyle. Upgrading your windows to a larger size or different style can bring out the beauty in your home, and the perfect time to do that is when you replace your windows. The only option for these kinds of changes is a full frame window replacement.
Are you building a new house or a home addition?
If you have new construction or a home addition in the works, a full frame window is the only option, and you'll be thrilled with the results. Any major home remodel will typically work out perfectly with a full frame window replacement.
Get the Ideal Replacement Window for Your Home 
No two North Carolina homes are alike, so it's important to factor in the variables unique to your situation when deciding whether to have full frame window replacements or inserts. The good news is that you don't have to make this decision alone. At Kelly Window & Door, we specialize in customized window replacements. We'll inspect your home, discuss options, and work together to discover the optimal long-term solution for your needs. 
We have several different methods of installation covering both inserts and full frames. We'll give you the pros and cons of each method and guide you toward the best solution, but we respect the fact that it's ultimately your choice. We present visual comparisons of each method of installation, and are happy to provide the information needed for you the homeowner to make an informed decision that's best for your home.  
Take a moment to learn more about how our window services can help you achieve the vision you have for your home exterior, and consider the uplifting change new windows can bring to your daily life.