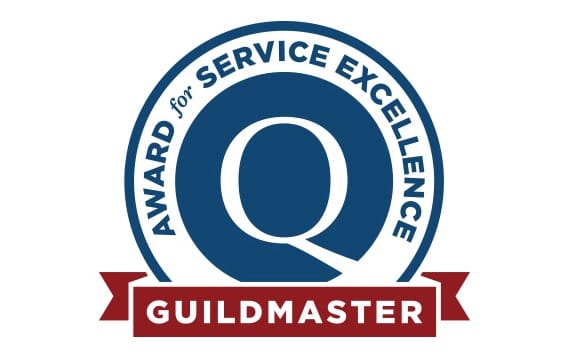 A Stress-Free Way To Love Your Home Again
For the second year in a row, Kelly Window and Door is the proud recipient of the GuildQuality's Guildmaster Award. We are once again among businesses that are recognized for consistent delivery of exceptional customer experiences. While the average customer recommendation rate for the home building and remodeling industry is approximately 70%, only businesses with a customer recommendation rating of over 90% are eligible to win the Guildmaster award. Moreover, we are the only window and door contractor in the Raleigh area that received the Guildmaster Award. We are so grateful for all our clients who made over 27 Years in business possible, and for all their feedback that helped us grow to where we are today.
Kelly Window and Door's purpose of "Serving People Well" defines everything we do as a company. Here are a few ways we have lived that out over the years that our clients say set us apart from other contractors:
Honest, No-Pressure Sales
During a free consultation, our sales consultants walk each client through the whole process in detail, answering any questions and addressing any concerns, so clients know exactly what to expect throughout the process should they choose to invest in our products.
Quality Products
We sell nothing but the best, most reputable brands that we trust, such as ProVia doors and Sunrise windows. If we wouldn't trust it for our own homes, we don't trust it for our clients' homes either.
Highly Professional Installers
We also hire only the best people who clients can trust with one of their most precious possessions – their home. Our installers do an exceptional job with their work with a friendly and respectful attitude, and they clean up the job site so well afterward that it was as if they were never there (besides the beautiful new windows or doors of course!). Our company also has a multi-tiered Craftsman program in place for continuous growth and improvement of our installers' skills.
Positive Experience with all Members of our Team
Throughout their window and door project, clients may have contact with numerous members of our team: receptionist, sales consultant, detailer, operations team, installers, client support specialist, and service technicians. Clients report receiving friendly and helpful service every step of the way.
But don't just take our word for it ⁠— see for yourself what our clients have to say about our company and check out the hundreds of reviews!
If you are considering window and door replacement, there's no need to settle for subpar service. Give Kelly Window and Door a call at 919-461-0010 or fill out our online form and let us show you what our clients are raving about!