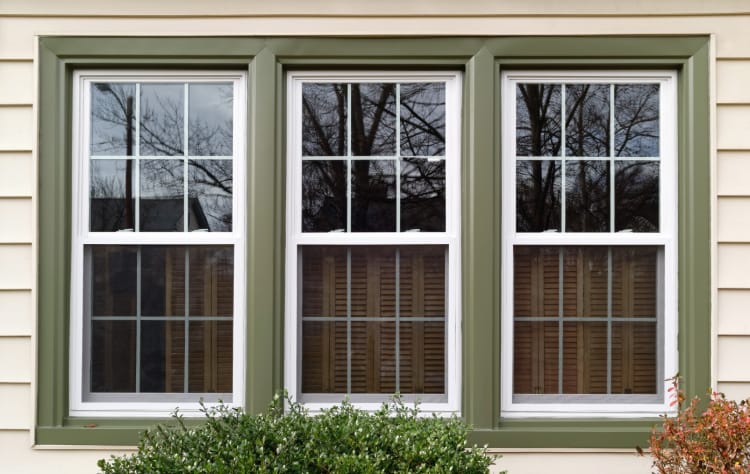 Smudged up windows can create a lackluster look that you don't appreciate. Clean windows give you great views of the outdoors from the comfort of your home. They also allow natural light to freely teem through your windows into your home, boosting the mood and the atmosphere of your home interior.
Window Grids Defined
In the past, window cleaning was time consuming and frustrating. Old, hard to reach windows made cleaning them a real chore. Enter internal window grids. Window grids are strips of material that simulate smaller panes of glass.
Internal Window Grids Make Cleaning Your Windows Simple
And when it comes to cleaning, a window grid located between the glass makes it super simple to clean your tilt-in double hung windows as well as other window styles with internal grids. Some window brands have grids that snap onto the glass and need to be removed to clean the window. These can break and cause a real obstacle when it comes to cleaning. Sunrise Windows creates the look of window grids without the hassles. They place the window grids between your panes of glass, so you can clean your windows with ease.
Sunrise Windows Internal Grids Give You Sophisticated Style
The unique detail window grids add to your windows provide the perfect finishing touch for your home. A classic choice that comes in multiple styles gives your home a timeless flair you're sure to enjoy for years to come. Choose the perfect grid to highlight your window's design.
Standard Colonial grids
Brass Pencil Colonial grids
Standard Diamond grids
How to Clean Your Windows with Ease
Today's windows tilt in and make cleaning a breeze. Avoid streaking and scratching your windows like a pro by following these window cleaning tips:
Supplies: Gather two buckets, a clean sponge, a well-made rubber squeegee, a lint-free cloth, a chamois cloth, and your favorite cleaning solution. Either pick up a commercial cleaning solution or make your own. One gallon of water mixed with 1.5 cups of white vinegar works well on windows. This easy to find, cost-effective solution works fabulously as a window cleaner. Here's how:
Apply cleaning solution. Use your damp sponge to apply your solution. Work on removing any smudges and grime while you clean the window from top to bottom. Be generous with how much cleaner you use, but keep the cleaner off your vinyl window frames, as it could discolor the finish.
Use your squeegee to wipe the cleaning solution off your window. As quickly as possible after applying the cleaning solution, in order to prevent streaks, wipe your windows horizontally with a damp squeegee blade. Clean the blade frequently to remove the cleaning solution.
Rinse windows with clean water. Change your water frequently if you are cleaning lots of windows in a row, and rinse windows thoroughly.
Polish windows with a dry cloth. The last bit of moisture can be removed from your windows by using a dry chamois cloth and polishing the window surface. Stand back and enjoy the sparkling clean look of your windows.
Pro cleaning tips
Keep window cleaner away from window frames to maintain the frame's finish.
Clean each window completely before you go on to the next window in order to prevent streaks.
If streaks appear after cleaning your windows, rinse them again with clean water.
What not to do when you clean your windows
Don't use a glass cleaner with an ammonia or alcohol base. These types of cleaners leave streaks and a film on your windows that actually attracts dust and moisture.
Don't use a razor or any kind of blade to try to scrape a spot off your window. You could risk the possibility of causing unsightly scratches and compromise the window glass' integrity, making it easier to break in the future.
What to use on difficult spots
If your window needs some spot treatment prior to your regular cleaning, use a solvent like rubbing alcohol and rub it directly on the difficult spot on your window. Wipe it dry, and then begin the basic window cleaning process outlined above.
The Beauty and Benefits of Clean Windows
Boost your home's curb appeal. Clean windows heighten your home's overall look from the outside and the inside. They help make positive first impressions, and create a great look to come home to.
Prevent window damage. It pays off in the long run to take care of your windows because a window system that works well is less likely to break down.
Regular window cleaning helps windows function at their best. To enjoy the high performance your windows were designed for, keep them clean. Low-E coatings work best when they are cleaned regularly.
Sliding windows need clean tracks to work properly. When sliding window tracks are free from debris and dirt is cleaned out of window hinges, they function like they should.
Improve the look of your home interior with more natural light. The more natural light, the happier the atmosphere in most homes. So, let the light shine in with clean windows.
Spot problems when they are little. You can save money on window repair or replacement by taking a good look at each component of your windows as you clean them. If there are problems, address them early and save in the long run.
Transform Your Home with New Sunrise Windows
Boost your home's indoor comfort, looks, security, and energy efficiency with the perfect replacement windows. Get the perfect window style to complement your home, and take pride in your home's looks.
Looking for a Window Replacement Contractor in the Greater Raleigh, NC Area?
The professionals at Kelly Window & Door are Sunrise Windows Contractors specializing in window installation. We'll guide you through the selection process and make sure you're delighted with the outcome. Check out our window gallery of recent projects. Schedule a free consultation, and learn how our stress-free process can create the home you love.