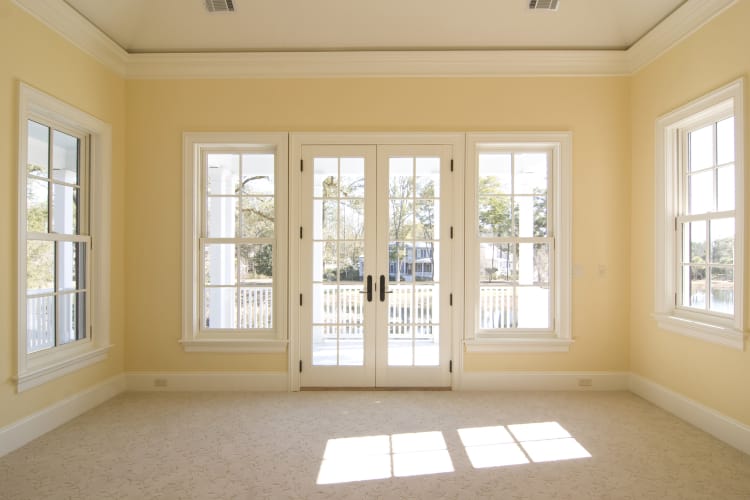 When investing in replacement windows, your interior trim adds to the design of your home. Trim adds a finished look that frames your view out your new windows and enhances your dwelling. Window trim, properly installed by a qualified contractor, functions as an important part of your window replacements. Much like the frame for your favorite picture, it creates a statement and highlights the view (out your windows), and it gives a finished warmth to your interior.
Window trim function
Made of wood, window trim is attached to your home's walls and fits perfectly around your windows. It actually covers up unfinished space between your window frame and your wall.
Window trim design features
Interior trim, the final touch of window installation, adds decorative appeal to your home. Interestingly, small variations can have a big impact on the look of window trim, so take a look at the options to find the best match for your taste. When choosing the perfect interior window trim for your home, be aware of how it will complement your dwelling's other interior design features.
Trim is pretty amazing. It boosts your home's design and gives you the distinct look you love. It's the finishing touch on your window replacement project. Here's what trim does:
Visually
Trim gives your home a crisp, completed look. In a purely aesthetic sense, trim finishes off ragged edges or outlines something of value. The look out your windows is beautiful, and trim draws attention to that space and highlights how special it is.
Functionally
Portions of a house should be covered to give your home a completed look. Where your flooring meets your walls, there's a gap that needs to be covered intentionally—so your home has baseboards. Walls are independent of floors, but the baseboards are needed to cover the space between them. Trim covers the exposed edges of window framing. When installed, it almost looks like it's part of the window, giving a seamless overall look.
Window trim surrounds your replacement windows and sharpens their overall look so they pop. When your door is painted white, and you add white window trim around your replacement windows, your room has cohesion. If your walls are painted a rich contrasting color, the window trim—and the beauty it frames—will stand out even more.
Coordinate a Cohesive Look to Boost Interior Beauty
1. Cohesion
When choosing interior trim, begin by taking a look at your home's design and molding details so you can coordinate a cohesive look.
Crown Molding—This gorgeous feature adds distinct beauty to your home. It's placed where the walls meet the ceiling of your home and brings elegance to your space.
Baseboard Trim—This molding is located where the bases of your walls meet your home's flooring.
Chair Rails—These are added to formal dining rooms and boost the overall design of the room. They are located a few feet off the ground on the walls throughout formal rooms in a home.
2. Style
Keep the style of your window trim consistent with your home's architectural style.
3. Color
Choose window trim to complement your home's details.
Boost your home's decorative appeal by adding gorgeous window trim to your home that makes a statement—visually.
Spruce Up Your Home with Style
Regardless of your choice in window materials, your trim can add flair to your home interior. The variety of window trim options allows the ideal customization for your home. Match the trim styles to your home to get the perfect look.
Sunrise Windows offers exceptional interior trim made from oak or maple. It arrives pre-finished and pre-assembled for streamlined installation. Make your selection from a variety of gorgeous styles.
Choose from six different stain colors or Painter's White to match your Sunrise Windows perfectly. Options include:
Brazilian Pecan
Colonial Cherry
Provincial Oak
English Walnut
Golden Oak
Unfinished Oak
Norwegian Maple
Unfinished Maple
Primed
Painter's White
Window Styles
Get the optimal windows for your home, then add the perfect trim to enjoy distinct style.
Double Hung Windows
The most popular window style in America, these reliable windows give your traditional home a classic look. They are generally longer vertically than horizontally, and open using two vertically sliding sashes. They're easy to clean and give you fabulous airflow in your home.
Casement Windows
These windows give you exceptional views, and open to the right or left rather than vertically. They are easy to open and close with their crank or lever.
Awning Windows
These windows can be left open even when it rains, making them an ideal option for moist climates. They allow refreshing ventilation in your home. Their hinges connect the top of the awning window to the side of your home, so they swing up to open.
Bay Windows
Due to their design and size, they allow a vast amount of natural light to stream into your home. They can make the room they are in look bigger due to their style and shape.
Glider Windows
These windows don't open outward, but rather glide along a set of rollers, and are maneuvered with ease. They work fabulously in large rooms that call for larger windows.
Get a Reliable Window Replacement Contractor
Don't settle for an inferior window contractor. Kelly Window and Door is a Sunrise Windows Contractor and provides outstanding customer service, prompt communication, and trustworthy installation. We understand choosing replacement windows can be overwhelming, and that's why for nearly 27 Years, we've provided homeowners with over 4,000 successful installations with products we believe in.
Our stress-free process helps you transform your home into a place you can be proud of. You can be confident your replacement windows were installed by a caring team of certified professionals, and our warranties give you peace of mind. Schedule a free consultation, and in the meantime, check out our free download, "Are Your Windows Causing You to Lose Money?"