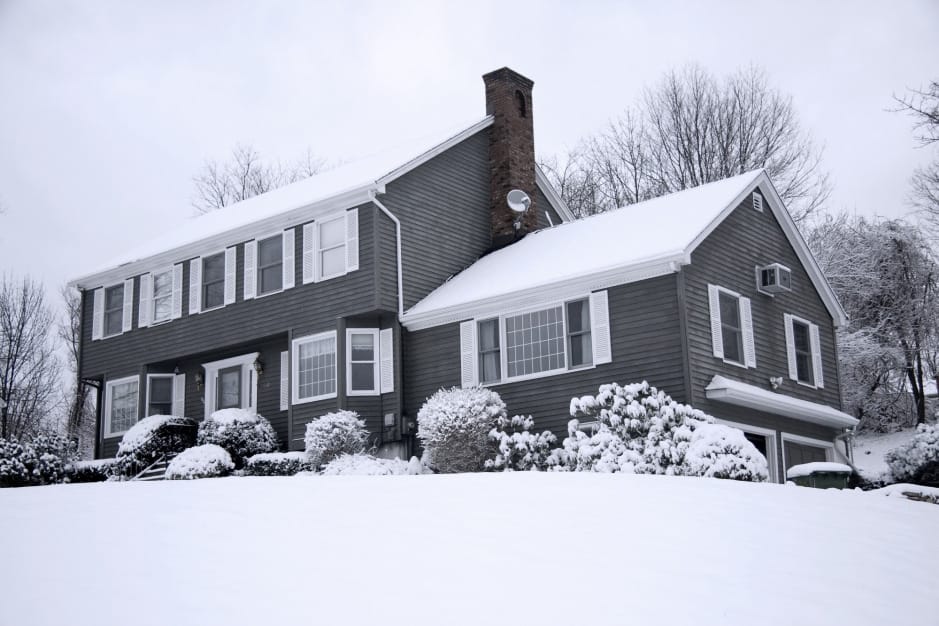 Winter storms can bring not only ice and snow, but also extreme temperatures that take a toll on your home exterior. Damaging weather can impact your home and cause your indoor comfort to plummet.
Inspect your home now, before the storms arrive, and enjoy the peace of mind that your biggest investment is well protected. Avoid skyrocketing utility bills by proactively ensuring your windows, doors, and everything else are functioning at peak performance and optimizing your energy efficiency. 
Prepare Your Home's Vital Components before Blustery Winter Storms Come 
Preventative maintenance includes inspecting your home thoroughly. It will not only save you time and money, but also means you will be comfortable throughout the frigid winter. 
Over time, siding wears out, roof shingles lose granules, and furnaces need repairs. Inspecting major components ensures they will perform well over their lifetime, and needed repairs can be made early—saving you in the long run. Contact professionals to inspect any areas you're concerned about.
Here's a checklist to help you prepare your home before winter storms arrive:
1. Evaluate your windows for energy efficiency and signs they need to be replaced
Inefficient windows can lead to increased utility costs throughout the winter. Heat escapes easily when window seals are compromised, so verify windows are tightly sealed. Add weather stripping as needed to decrease the possibility of uncomfortable indoor drafts. Look for these signs that your windows should be replaced: 
Decay and moisture damage on your window frames
High utility bills
Faulty window function (stuck closed or hard to open)
Indoor drafts near your windows
Damaged or cracked windows
Foggy windows that are hard to see out
Excessive condensation between window panes
Unwanted outdoor noise infiltration 
Replacement windows keep your home warmer and cozier in the winter, and ensure its energy efficiency is maximized.  
2. Assess your doors for energy efficiency
Inspect and replace any weatherstripping that has become faulty around your doors, including the door sweep attached to the bottom of them. Check caulking around outside moldings of door frames, and add caulking if needed. If you have drafty air seeping in around your doors, use rope caulk to seal gaps as needed.
Look for these signs that it's time for door replacement:
Is your door hard to open and close?
Is there moisture between the panes of glass in your door?
Is your door weathered, warped, cracked, or damaged in any way?
Are there noticeable drafts near your door?
Is there moisture damage or insect infiltration?
Are you tired of the way your current doors look, and you're ready for an update?
Consider the benefits of a storm door this winter.
3. Check your home's HVAC equipment
Your most important safety feature for winter storms is your heater. Change your air filter to ensure a free flow of clean air. Inspect and clean your heating vents. Get a battery-operated carbon monoxide alarm that will go off if it detects a carbon monoxide leak. If you have a propane or fuel oil furnace, top off your fuel storage tank.
4. Inspect your fireplace, chimney, and flue
Make sure your chimney is clear of any bird nests or small animal nests. Verify your fireplace's damper opens and fully closes to avoid cold air entering your home through it. If it's been a long time since your chimney was cleaned, have it cleaned by a professional chimney sweep.
5. Inspect your roofing and gutters
Either contact a professional roofer to inspect your roofing, or do a visual inspection yourself. Use binoculars from across the street, and take a good look at your roof shingles. If they are damaged or missing, have them replaced. 
Check flashing around your chimney and roof vents. If they are leaking, have them repaired or replaced. Verify gutters and downspouts are free from clogs due to debris or bird nests. Make sure downspouts are securely attached. Check your attic for any roof leaks. Leaks show up as moist insulation.
6. Winterize your water pipes
Insulate any exposed piping in your crawlspace, attic, and exterior walls by using foam insulating sleeves or wrapping them with electrical heating tape first and then insulating them. Add an insulated cover over your outdoor faucets.
7. Inspect your home siding
Siding insulates your home and protects it from the elements. Take a good look at your siding for any cracks, damage, or missing siding. If you spot problems, have them repaired or replaced promptly. Avoid the possibility of costly water infiltration by keeping your siding in good working condition.
8. Insulate before winter storms arrive
Use an insulating blanket to surround and shield your hot water heater. Get foam sealing gaskets to insulate exterior outlets and switch plates. Seal up any unused fireplaces. Block cold air from coming down the chimney by adding a piece of fiberglass insulation behind your fireplace screen. (Remove it when you are ready to use your fireplace again.)
9. Winterize your sprinkler system
Shut off your water, drain the pipes, blow them free of water, and open test cocks on the vacuum breaker to allow air into your system in order to prevent trapped water from freezing and cracking the plastic water lines.
10. Winterize your pool and hot tub
Hire a pool maintenance professional to perform all the winterization procedures or follow the manufacturer's recommendations meticulously yourself.
Ensure Your Home Is Well Protected This Winter
At Kelly Window and Door, we install only the finest window and door materials so your home is safeguarded from the elements throughout the year. Choose from Sunrise® or Restorations® windows, and customize your home with gorgeous ProVia® doors. Our skilled installation team ensures you get precision installation for enduring high performance.