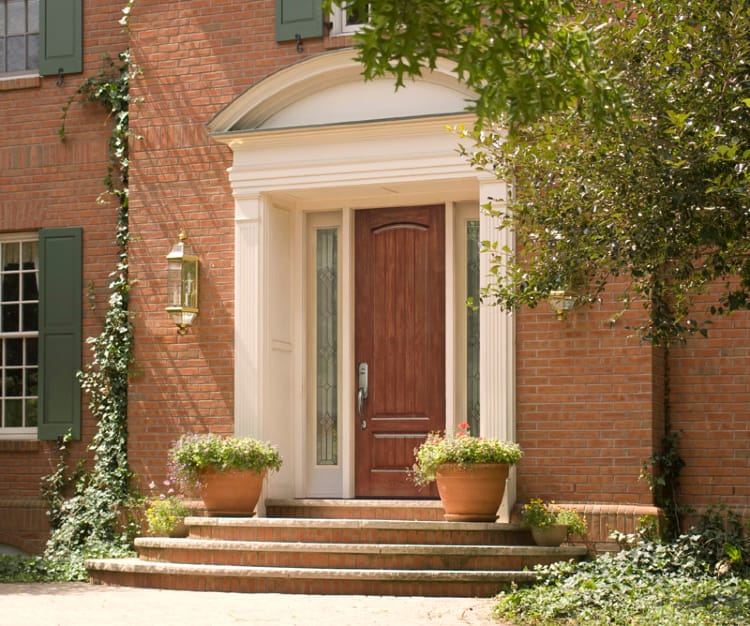 Your front door brings the perfect balance to your home's overall look. It welcomes others, beautifies your home, and protects you and your loved ones. Curb appeal is impacted directly by your entry door's color, style, glass, and makeup. It offers you security with state-of-the-art locking mechanisms. Its overall vibe can bring an embracing welcome, and extend warm hospitality to your family and friends from the moment they set foot on your property.
How to Select the Perfect Front Door for Your Raleigh, NC Home
Your entry door should complement your home's style and your exterior color scheme. It reflects your personality and presents a distinct entrance to your dwelling. How do you go about finding the best choice in a front door replacement for your home? Here are some tips to get you started:
1. Choose the Optimal Door Material
Begin by looking at your material options and select the best fit for your long-term needs.
Steel Doors
Steel doors are cost effective and practical. They are super safe and give you some of the best security an entry door can provide.
Fiberglass Doors
Fiberglass doors are unbeatable when it comes to durability. They withstand the elements with ease, and (unlike wood doors) they are low maintenance because of their makeup (think canoes and hard hats).
2. Complement Your Home's Architecture
Whether your home is Traditional, Modern, Contemporary, or Craftsman, there's a perfect door for your dwelling. Here are some ideas of where to start when it comes to selecting your new entry door's style:
Traditional
Get timeless, classic features in your entry door to match the beauty of your home. A solid fiberglass door which mimics the look of wood is a great place to start. Consider adding bold hardware and a rich color to bring out the best in your door's overall look.
Craftsman
The artistic beauty of a Craftsman home calls for added interest from the entry door. A fiberglass door with a gorgeous "Craftsman light" glass at the top third of the door gives you the classic Craftsman look to complement your home. This gorgeous door allows refreshing natural light to teem into your home, giving it an uplifting vibe you'll enjoy year-round.
Modern or Contemporary
Clean lines, open spaces, and plenty of natural light are foundations of the Modern home. Select a sturdy steel or durable fiberglass front door with glass panels to complement your home's clean, high-end look.
Cottage
Add a pop of color to your home to create visual interest to your Cottage style home. If you prefer a more conservative approach, simply match your home's trim color on your new entry door. The classic look of wood can be mimicked with a durable fiberglass door, complementing your Cottage home's style perfectly.
3. Make the Best Entry Door Choice
Check out ProVia's convenient online visualizer tool that lets you try before you buy your new door. Select from their wide variety of options, and take a look at how they complement your home to give you confidence in your selection.
EMBARQ™
For realistic woodgrain, get a super energy-efficient fiberglass door. Enjoy enhanced insulation, improved energy savings, and beauty. Get optimal protection from weather and extreme temperatures.
SIGNET® Fiberglass
Enjoy the exquisite appearance and striking old-world craftsmanship look. These are the most accurate representation of woodgrain fiberglass entry doors. Choose from Knotty Alder Series, Cherry, Mahogany, Fir, and Oak, as well as seven stain colors. Get the best finish warranty in the industry along with your gorgeous new entry door.
LEGACY STEEL™
This energy saving, durable, heavy-duty 20-gauge steel entry door provides the greatest protection from intruders and gives you peace of mind.
HERITAGE FIBERGLASS™
Get the classy style of woodgrain with the durability and security of fiberglass. These gorgeous entry doors are up to 8 feet tall, with sidelite heights in 1/8th-inch increments for the perfect, custom fit.
4. Add Great Looking Hardware
Select hardware that adds interest and performs the functions you desire. Enjoy gorgeous ProVia hardware selections that last. Get interior and exterior function and style to complement your home. Choose maximum security deadbolts, and benefit from a lifetime mechanical warranty, and anti-tarnish finish warranty to guarantee beauty for life.
5. Add Glass
Choose your front door's glass to add visual interest and style. Boost energy efficiency for doors with glass by adding ProVia's ComforTech™ glazing package—available in clear, decorative glass, and Inspirations Art Glass.
Advantages of ProVia® Entry Door Options
When you invest in a front door replacement, you invest in the overall look of your home, safeguard your family, and get solid protection from the weather elements. Enjoy the perfect custom entry door for your home with a ProVia door. They have been crafting the finest entry doors for over 35 years, and they individually customize your door to assure you get the highest level of durability and protection for your home.
ProVia doors are available in a variety of gorgeous styles which create optimal curb appeal for your home. They provide your dwelling with added insulation so you save on utilities bills throughout the year. Every steel or fiberglass door is foam filled with thermally efficient material, and has fabulous weather seals. You're sure to enjoy the consistent temperatures in your entryway after installing a new front door. You'll eliminate the cool drafting that may have occurred in the past.
ENERGY STAR® certified ProVia entry doors meet criteria that ensure energy savings. Materials such as steel and fiberglass are durable and weather resistant. They maintain their gorgeous look in spite of the elements. And ProVia's lifetime limited warranty gives you assurance you're covered for the long term.
A Reliable Door Replacement Contractor
Don't settle for an inferior door replacement contractor. Get the premium products you deserve, and dependable, precision installation with the Kelly Window and Door experts. Schedule your free consultation today!