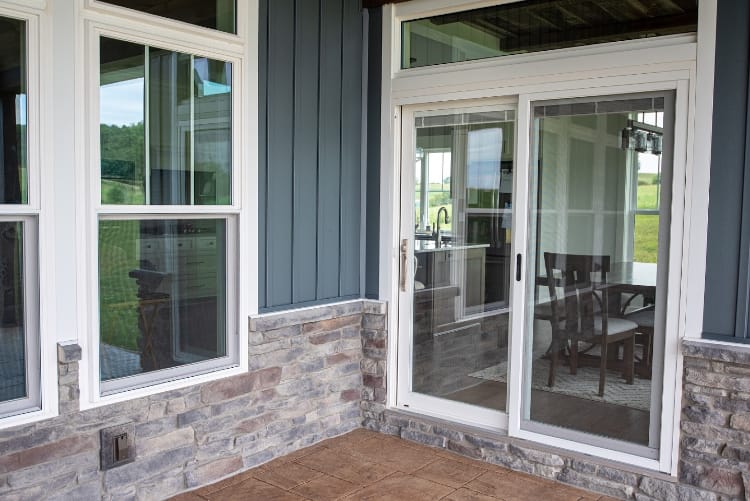 Old, faulty patio doors make your home feel drab and dated, but a stylish new door can boost your home's overall vibe and improve its functionality. Replacement patio doors from Kelly Window & Door give you better views of the outdoors, and since most people spend 90% of their time inside, patio doors can bring much needed refreshment to your home. Feel more connected to nature and enjoy indoor/outdoor entertaining and living. Create a beautiful focal point for any room with a gorgeous new patio door.
Transform Your Space with a New Patio Door
Patio doors not only boost natural light in your home but also give you beauty, style, and function to enhance your everyday lifestyle. Maintenance-free ProVia patio doors provide an easy entry to your backyard or balcony, and come with screens so you can enjoy healthy fresh air in your home year-round.
Here's how to select the stylish door you've been dreaming of.
How to Select the Best Patio Door for Your Home with Confidence
Select the patio door type that fits your space.
If your square footage is tight, sliding patio doors may be the best solution because they help save on the space a hinged, traditional door typically takes.
Choose a patio door glass option that boosts insulation and security.
With today's technology, you don't even need to block the view your patio door provides with drapes. Patio doors offer you a host of glass options that can enhance your home's energy efficiency while offering you reliable protection.
Consider a new patio door with internal blinds.
You can enjoy all the natural light you desire in your home with the beauty and simplicity of internal blinds. These blinds are raised and lowered completely for maximum light control while preventing excessive sun exposure.
Decide on patio door that offers superior energy-efficiency
Choosing Low-E glass saves you on your utilities and protects against fading. Adding comfort to your home with a well-sealed patio door will ensure your indoor temperatures stay consistent throughout your home even in the cool of winter.
Inquire about the warranty your new patio door offers.
Warranties can vary in what they cover and how long they cover different components of your new patio door. Check on your sliding door's coverage before making your final decision. ProVia offers a lifetime limited transferable warranty that is hard to beat.
Understand any maintenance needs of your new patio door.
Minimize your maintenance requirements by choosing an attractive vinyl patio door that will never need to be repainted. When it comes to paint, if it's vinyl—it's final.
Know what your patio door can withstand.
Vinyl patio doors are built to last and to resist even severe weather.
Get the hardware that matches your style.
Customize your new patio door with hardware options that boost the look of your home, and enhance its security features. Choose from nickel, polished brass, bronze, and more.
Choose a contrasting color door frame.
Make your home pop with a bit of contrast by choosing a black frame for a light-colored room, or a light frame for a dark-colored room. Vinyl comes in a wide variety of shades of color to select from.
Choose a contractor who will install your door with perfection.
High performance patio doors only operate like they should if they are installed properly. Get a perfect fit for your new door by choosing a pro who has a track record of premium installations. Get referrals from friends and family, and look at a few different companies. Check their reviews online, ask for references, and contact the BBB about company ratings before entrusting your door installation to a contractor.
Patio Door Options
When looking for the best styles to fit your home, take time to educate yourself on the variety of patio door options to consider.
Hinged patio doors
These attractive doors open inside and maximize your patio living space, or they can open outside and maximize your home interior space.
French doors
These attractive doors look fabulous in a master bedroom and lead you to the outdoors with ease. They can also be used to separate interior rooms in an attractive way.
Sliding doors
These traditional patio doors sit flush with your wall, and the door-sized glass panes are on a track at its bottom. One pane slides in front of the other pane to create open space to walk through, or to use the sliding screen in order to increase fresh air inside your home. These work fabulously in small spaces like a balcony, a modest home, a small room, or a condominium.
Precision Installation for Your New Patio Door
Don't settle for inferior long-term solutions for your home's replacement doors. Get the best long-term performance from your new patio door by hiring a team of installation experts like the pros at Kelly Window and Door. We install top brands of doors and windows with precision. We provide exact quotes and give each project our five-star treatment from start to finish.
It's time for your home renovation dreams to become reality. Enrich your lifestyle with a beautiful new patio door by ProVia. Contact us today for a free consultation.