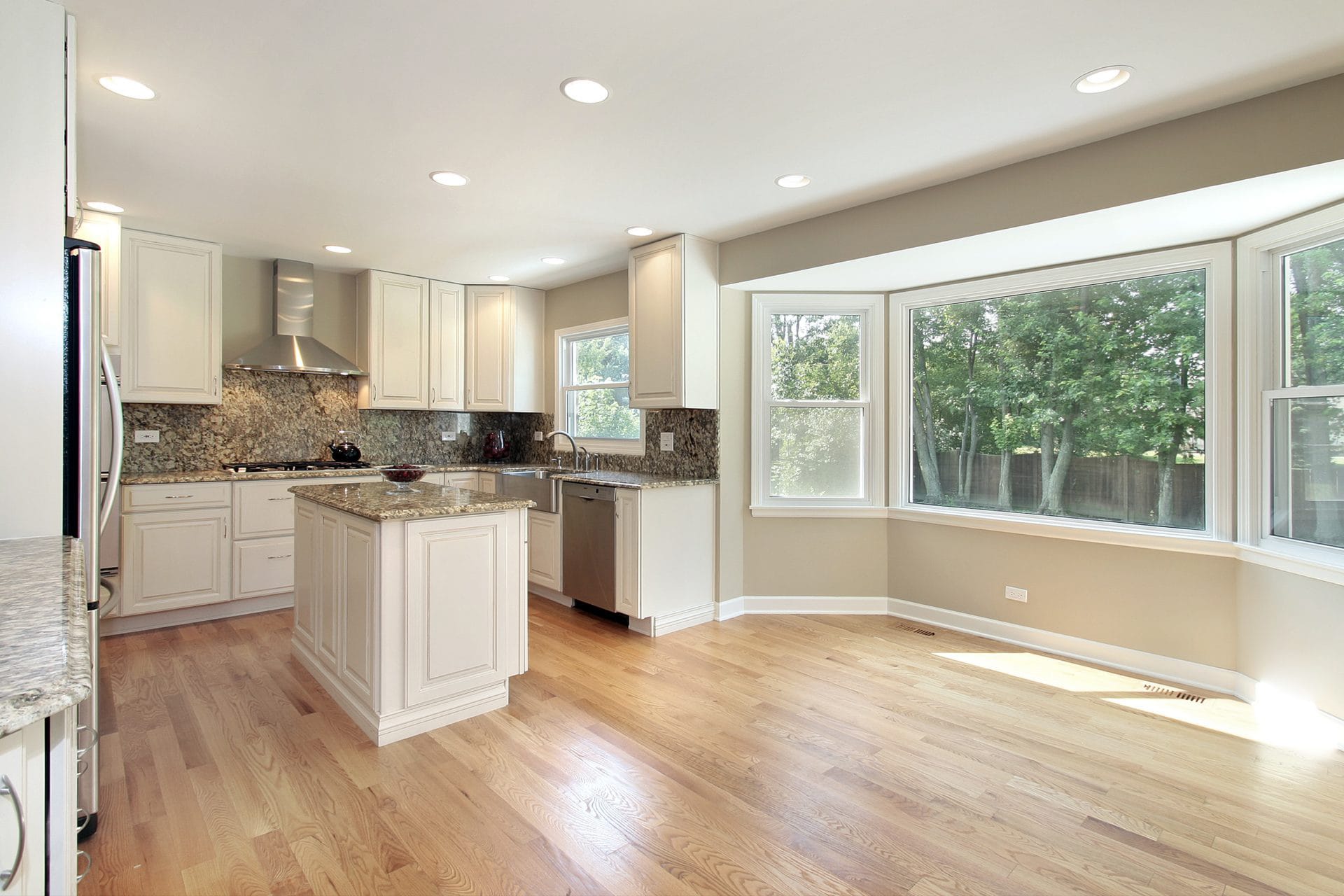 From the time they were first used in castles during the English Renaissance, bay and bow windows have come a long way. Today, they are installed in all styles and sizes of homes and loved for their ability to bring great natural light into a usually dark breakfast nook or reading area.
Bow windows use more glass panels than bay windows do because bow windows are installed in more of a curve than bay, and more windows are needed to create the curve.
The aesthetics and expansive views of bay and bow windows add style, space, and value to your home while delivering a significant return on investment (ROI).
The Difference between Bay and Bow Windows
Bay Windows Defined
A bay window is a central window or group of windows bordered by additional windows that extend out from your home's walls, creating a "bay" inside your room (usually a kitchen, bedroom, or living area). Bay windows consist of a large center picture window which is fixed, and either double-hung or casement windows on both sides of it.
Bow Windows Defined
Curved bay windows are called bow windows. Bow windows are designed with 3,4,5, or 6 equal-sized sections and give your room added dimension and symmetrical style. Bow windows come in custom sizes and a variety of combinations of ventilating double-hung or casement windows combined with fixed picture windows.
How Bay and Bow Windows add Space to Your Home
Seating is often part of the indoor function of a bay or bow window area. An inviting breakfast nook or a reading nook are created when you add a gorgeous bay or bow window to your home.
Get creative with the bay created inside your home by adding a hanging chair to relax in and adding visual interest to the room. Bay or bow windows located in a master suite are used as a place to read or relax.
How Bay and Bow Windows add Style to Your Home
Bay and bow windows offer an attractive focal point for your home interior and add interest to its exterior. They often highlight an outstanding view and bring an abundance of natural light into your home.
Precision Window Installation for Optimal Results
Don't settle for an inferior window and door contractor. Get the long-term, high performance you desire with expert installation from the experienced professionals at Kelly Window and Door. With over 27 Years installing windows in the Raleigh, Cary, Durham, and greater triangle area, we are dedicated to providing the highest level of both products and services.
We deliver five-star treatment whether you have us install one or twenty windows. We don't give estimates; we give exact price quotes so you can plan ahead with confidence.
At Kelly Window and Door, we respect your home and take extra time to clean up well after each project. We carry only the finest brands of windows and doors so you can select the best products for your home with confidence.
Take a moment to find out more about our window services.