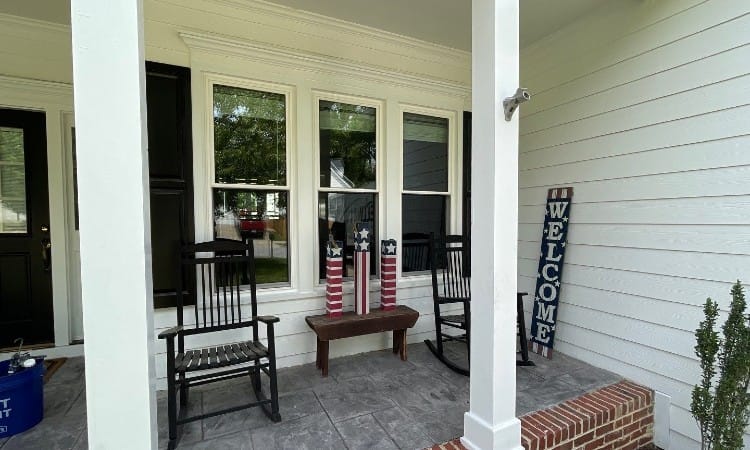 Location: Apex, NC
Renovations: Window and Door Replacements
Foggy Window & Deteriorating Door Issues
These Apex homeowners reached out to us as they were facing some problems with their old windows and doors. They had experienced "fog" in between the window panes and noticed that their exterior trim had weakened, displaying visible wear and tear. Their entry doors were also deteriorating, and some of them were unfinished while others were out of plumb, disintegrating, and not providing good insulation from outside temperatures. They reached out to our team at Kelly Window & Door to help!
During the consultation process, our team worked with the homeowners to better understand their requirements and challenges. We learned that they were looking for quality window and door products and reliable installation services. They were initially shopping around for quotes from other window installation contractors, but decided to work with us as we had helped them solve their problems in the past.
Creative Solutions in Installing Custom Windows and Doors
To resolve the homeowner's issues, we provided several customized products from quality brands to best suit their needs. Our team installed V5000 Restoration Windows from MI Windows & Doors, which are a made-to-order solution for each window opening. They offer new water management on the window trim with the new cladding and sealants as well as a smooth and clean new look that withstands the elements.
We also provided several door solutions from ProVia which included a ProVia SPD Endure Series 2-Lite Patio Door as the sliding patio door replacement for the hinged patio door, a Legacy Steel Single Entry Door with a sidelite as the front replacement door, another Legacy Steel Single Entry Door for a garage door entrance from the exterior into the interior, and new hardware replacements for the entry door. We were able to provide different panel designs for the doors as required by the client.
Upon removal of the old hinged patio door, we discovered rotted wood at the bottom of the opening. We performed structural analysis and replaced the rotted wood with new material providing renewed strength and integrity.
The windows and doors arrived at different times, but we worked with the clients to schedule the earliest availability for installation so that it could be completed as soon as possible.
A Window and Door Upgrade Worth Celebrating
Both homeowners had a wonderful experience with Kelly Window and Door. They described our team as professional, courteous, and efficient. The clients were highly impressed with our new windows and doors, which made the process simple and easy for them.
They wrote in a Google Review:
"We had a wonderful experience with Kelly Window and Door. Every single person we interacted with was professional and courteous. I am so pleased with our new windows and door and grateful for such a simple and easy process. I highly recommend Kelly Window and Door!"
At Kelly Window & Door, we are dedicated to providing our clients with customized solutions to address their unique needs. This Apex, North Carolina project resulted in a positive client experience and a beautiful new window and door installation that will improve the energy efficiency and value of their home for years to come.
With more than 26 years of experience, our team takes the stress out of replacing your home's windows and doors. Contact us to speak with one of our specialists for a free estimate and consultation.
---