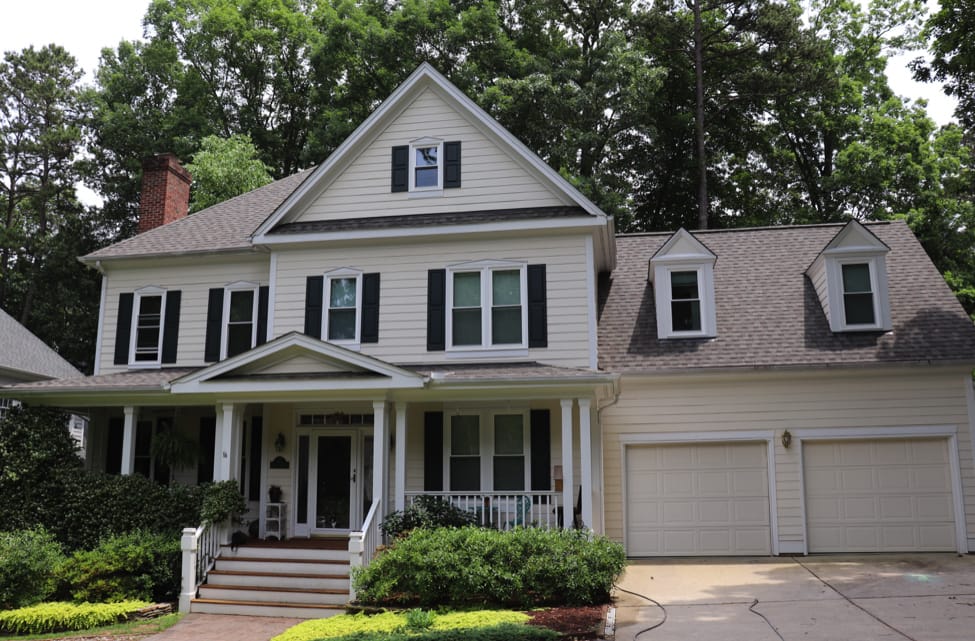 The View Every Homeowner Deserves
Location: Cary, NC
Renovations: Replacement Windows, Replacement Door
Home Exterior Challenges
Denise loved her home in Cary, North Carolina. She especially loved all the beautiful plants and greenery in her backyard. But as time passed, her windows eventually did not allow her a clear view anymore. The windows' quality had diminished, and she could no longer enjoy looking out at her scenic yard. It was time for them to be replaced.
Home Exterior Solutions
Based on a referral from one of our previous clients, Denise contacted Kelly Window and Door to ask about our premiere products that would stand the test of time. Our sales consultant, Bill, walked Denise through the options at her consultation. She decided to invest in 34 windows from our Restorations line for all over her home. She also selected a ProVia Legacy steel door to replace her back door. Once the products she ordered arrived at our warehouse, our window and door installation crews took care of the rest.
The Results: Loving Her Home Again and Stress-Free Installation
A Beautiful View
High-quality, Operable Windows
Noise Reduction
After just a few days of having her new windows and door, Denise was already impressed by very noticeable improvements. Her house is now covered in new, high-quality, operable windows that are beautiful themselves, but more importantly provide a clear view of the beautiful outdoors. In addition to these aesthetic differences, Denise experienced an unexpected bonus due to the new windows: considerable noise reduction! With the rapid growth of the Triangle area and surrounding towns, many in the area have experienced increasing traffic noise as new development and construction goes on nearby. But the precise engineering of our Restorations windows, along with their high-performance glass package, provides extremely effective insulation from outside noise. Denise used to hear traffic noise throughout all hours of the day and night, but she was pleasantly surprised with how quiet her home was after the installation of her new windows. We are so glad that Denise can now enjoy these benefits and love her beautiful home more than ever!