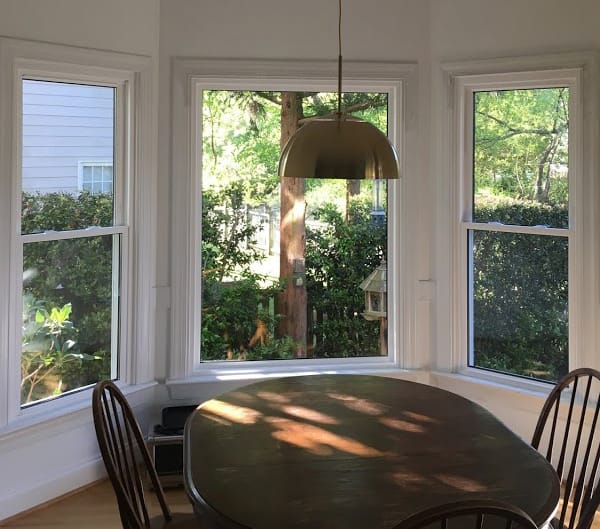 Location: Cary, NC
Renovations: Replacement windows
For years, Mandy's husband had been trying to convince her that they should replace their old, deteriorating windows, which she saw as an unnecessary expense and a waste of money. As the couple undertook a kitchen renovation, her husband persuaded her it was time to move forward with replacement windows. Coordinating it with the other home renovation projects, in addition to COVID-related manufacturer delays, created a particularly challenging situation for which to complete the install.
Quick Install and a New Exterior
Mandy chose to employ Cary-based Kelly Window & Door to replace her worn-out windows based on a referral from a friend who was thrilled with her new windows installed by the company. Mandy met with Kelly's low-pressure sales representative and chose to purchase windows for five rooms. Although the manufacturing process was delayed due to COVID, the Kelly team stayed in close communication with the homeowners to keep them up to date as to the delivery timeline.
When the windows arrived, the skilled installation team was able to get started right away. Kelly customized the installation plan per Mandy's request by replacing the home's exterior brickmold with PVC brickmold, rather than its usual process of applying cladding around the existing brickmold. Mandy was blown away by the helpful crew and the short four-day turnaround for the installation.
"I truly have no words for how absolutely transformative having new windows is! I feel like I can touch the outdoors! This morning I sat and drank my tea while looking out of our stunning new living room windows and I felt so at peace. If I had any idea of how open, bright, and happy our space would look with new windows, then I would have done it years ago. If you are even considering new windows, go for it! Kelly Window and Door is professional, kind, and installs the most beautiful windows ever! It is money very well spent!"
Mandy, Cary, NC
Stunning Results
The first morning that Mandy walked down to her living room outfitted with her new windows, she was overjoyed. The high-quality windows bring in natural light without allowing drafts and noise to disturb the homeowners. Once dim rooms became light and airy. "I feel like I can touch the outdoors," Mandy said.
It was such a dramatic transformation that Mandy wished she hadn't waited as long as she had to undertake the project. Mandy also praised Kelly's professional, kind crew. "If you're even considering new windows, go for it!" she said. We are thrilled that Mandy is delighted with her results and believes her money was well spent.