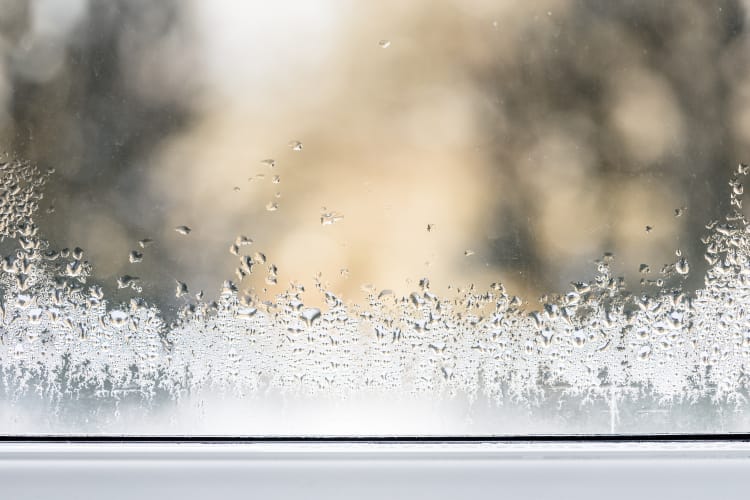 Rather than overtaxing your heating unit this winter, get energy saving replacement windows with Kelly Window & Door and keep the cold temperatures outside—where they belong.
Energy-Efficient Replacement Windows for Your Raleigh Home
Tired of cool air seeping into your house due to old, worn out windows? Avoid the sting of frigid air leaking into your home this winter. Get energy-efficient windows and enjoy indoor comfort all winter long. Here are some of the reasons homeowners in the Raleigh metro area are getting replacement windows installed this winter:
Stop letting your heating and air conditioning go "out the window."
Replacement windows prevent heat loss each winter and air conditioning loss each summer. To test for the possibility of drafts inside your home, light a candle and hold it in front of your current window frames. If it flickers, you have leaky windows that need to be replaced.
Decrease the need for high maintenance on your windows.
Old windows usually get caulked annually to try to prevent drafts from invading the home. The problem is that caulk dries out and cracks, rendering it minimally effective. Save time and hassle of window maintenance, and get the indoor comfort you deserve with replacement windows.
Enjoy consistent temperatures throughout your home.
When the temperatures inside your home near the windows are chilly, and the remainder of your home is warm, it's time for replacement windows so you can enjoy consistent temperatures throughout your home.
Get greater protection from harsh winter weather.
The insulation today's windows provide gives you significant protection from extreme temperatures, snow and ice. Double panes and triple panes give you added protection from the elements. Argon gas fills the space between glass panes, giving your home greater insulation and protection. Low-E coatings help improve thermal performance.
Low U-values make replacement windows effective heat insulators. They keep the heat inside your home. When you set your thermostat to the warm temperature you desire throughout the winter, replacement windows with a U-factor of .25 or less will help keep your home warm inside.
Create a well-sealed weather barrier for your home
The multiple components that make up replacement windows combine and create a weather-tight barrier for your dwelling. The sturdy frames infused with insulation, advanced glass options, secure locking mechanisms, and precision installation work together to give your home a secure seal that keeps the weather at bay—where it belongs.
Refresh your home's indoor atmosphere year-round.
Natural light lifts moods, and there's no better time to let the sun shine into your home than winter. With replacement windows, you don't have to keep your curtains or blinds shut any longer trying to keep the cold air out of your home. The new windows will keep the cold air outside, so you can let the sun shine inside and boost your indoor atmosphere.
Enjoy energy savings in spite of frigid winters.
Replacement windows are vital to energy efficiency in your home, particularly each winter. Cost effective double-pane and triple-pane windows give your home the insulation you desire to keep your utilities bills down and your indoor comfort up all winter long. When contrasting multiple pane windows with single pane windows, multiple panes can save you up to 25% on your heating and air conditioning bills.
Other benefits to replacement windows include:
Reduce noise intrusion—Keep the outside noise from invading your home by installing replacement windows. New windows decrease the amount of noise you hear from aircraft, heavy equipment, and common street noise.
Increase your home's curb appeal
Your home value will increase with replacement window installation. Boost your home's overall visual appeal with new windows, and attract buyers when it comes time to sell. Enjoy the sleek look of today's replacement windows.
Boost the views you can enjoy out your windows
With today's slim frames, you gain greater glass "real estate" so you can see more out your windows, and gain more natural light in your home.
Customize the look of your replacement windows
Too many homeowners struggle with trying to match their home style with replacement windows that will complement their home architecture. When you connect with a replacement windows contractor, you will be educated on the options so you can make the best choice for your home. Get the optimal custom look in frame material, hardware style, and glass elements to perfectly match your style.
Popular Window Styles
Double Hung Windows—This is the most popular replacement style, and it enhances the look of multiple home styles.
Casement Windows—This is the second most popular replacement window style, and delivers great views and refreshing breezes.
Picture Windows—These fixed windows escort an abundance of natural light into your home and give you gorgeous views of the outdoors.
Half Round Windows—Add visual interest to your home with these circle tops that are a popular feature in modern homes.
Slider Windows—Sleek and stylish slider windows give you easy-to-open windows that bring fresh breezes indoors and energy savings year-round.
Bay and Bow Windows—Create an open feel to any room—from the kitchen nook to a reading nook—with bay windows and bow windows.
Get a Reliable Replacement Windows Contractor
Ready to lower your heating bills this winter? The professionals at Kelly Window and Door install energy-efficient replacement windows with precision. Get all the benefits of new windows with detailed installation by the Triangle's leading replacement windows contractor.
We guide you through the replacement window options so you can find the best style and function for your long-term needs. Our premium products include Sunrise Windows, Restorations Windows, and Infinity by Marvin windows for the energy efficiency Raleigh winters call for. Extra precautions are taken to ensure your home stays warm and comfortable during the installation.
Boost your indoor comfort this winter with energy-efficient replacement windows. Enjoy stress-free window installation by Kelly Window and Door.