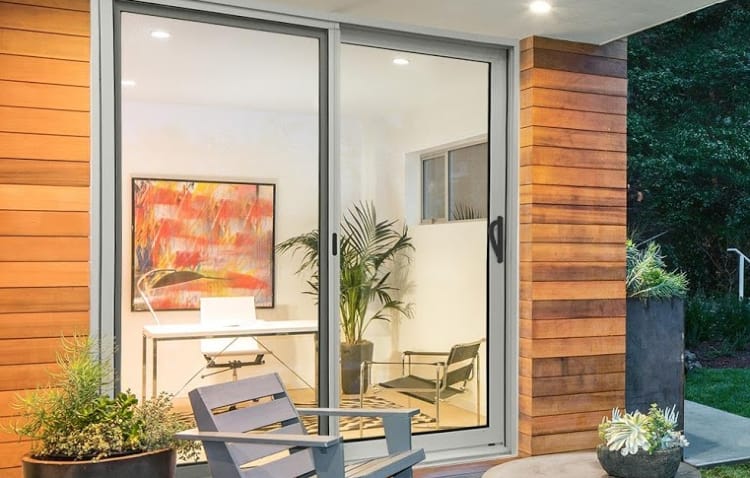 Sliding patio doors are a beautiful addition to any home when installed by Kelly Window & Door. They allow natural sunlight into your living space, offer a seamless transition between your home and the outdoors, and usually open onto a gorgeous deck or patio area.
Despite the excellent features of your sliding patio door, you may still be worried about the security concerns that it presents, like burglaries and break-ins.
Fortunately, there are multiple solutions to secure your sliding patio door, so you can enjoy all the fantastic benefits it offers without risking the safety of your home and family.
Safety Issues with Sliding Patio Doors
You might not realize that your sliding patio door is one of your home's most significant vulnerabilities.
Patio doors are usually in low-visibility areas, like the side of your home. The large glass panels and your door's location make it easy for burglars to evaluate the contents of your house to plan their robbery without a passerby or your neighbor noticing them.
More importantly, sliding patio doors are often secured with spring-loaded locks. Unfortunately, these locks are incredibly breakable and easy to disengage.
Here's the quick process a burglar can use to break into your home through your sliding door with a spring-loaded lock:
The burglar places his or her hands on the sliding section.
He or she pushes up and down on the glass in a jerky manner.
Eventually, the lock disengages, and the burglar can enter your house.
If the spring-loaded lock fails, a burglar can always break the glass, grab your valuables, and run within seconds.
5 Reliable Security Methods for Sliding Patio Doors
Now that you are aware of your patio door's safety concerns, you're probably wondering how you can protect your home from theft or break-in.
These fool-proof solutions can help you increase the security of your patio door.
1. Security Bar
A security bar is a circular rod placed in the track of your patio door to prevent the door from sliding open. Even if a burglar can disengage your lock, they won't be able to get through the door into your home.
2. Security System
You should invest in a security system for your home if you haven't already. When activated, a security sensor triggers an alarm and contacts your security company if your doors or windows are opened. When the system is turned off, you can freely open your windows and doors without activating the sensor.
3. Shatter Alarm
A shatter alarm is an additional sensor added to your home's security system that can detect breaking glass and window vibrations. The sensor will notify you immediately if the sliding door is tampered with or if a burglar breaks into your house.
4. Durable Locks
Spring-loaded locks aren't reliable enough to protect your home from a break-in. Swap out your current locks for a dependable, heavy-duty security lock designed for sliding doors and windows. These locks are double-bolted and are extremely difficult to disengage.
5. Window Shades
In addition to the previous security measures, adding curtains, blinds, or shutters to cover your sliding glass door is an excellent way to conceal your valuables and prevent wandering eyes from peering into your home when your door is not in use.
The Security Benefits of ProVia Patio Doors
We trust ProVia® patio doors to keep your home and family safe and secure. ProVia includes excellent, high-quality security features that add extra strength to each patio door, including:
20-gauge security plates that offer added sturdiness to prevent kick-ins and break-ins.
12-gauge hinge plates that do not bend and are welded onto your door for extra strength and security.
Stylish, durable locks that are available from Emtek® and Schlage® and protect your home while adding aesthetic appeal.
Two layers of tempered safety glass to make shattering your patio door a challenging feat.
Invest in Safe, Secure Sliding Patio Doors with Kelly Window & Door
With the proper precautions and safety measures, you should be able to guard your current sliding patio door against unwanted break-ins and burglaries. However, if you're looking for extra help securing your patio door, we can help.
Our skilled, knowledgeable team specializes in installing stylish, secure sliding glass doors with the most trusted, durable products on the market. You can rest assured that your family and property are safe while enjoying the beautiful, contemporary appearance that a ProVia patio door will add to your home.
Learn more about how a heavy-duty sliding patio door can give you and your family peace of mind about your home's safety while you enjoy your single, uninterrupted indoor and outdoor space.